Biography

Short Biography / Esther solo / German Biography / Wikipedia / Ofarim Today / Abi solo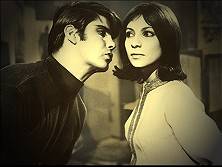 Esther Ofarim (Esther Zaied),
* 13.6.1941 in Zafed near Nazareth

and

Abi Ofarim (Abraham Reichstadt)
* 5.10.1937 in Zafed, † 4.5.2018 in Munich

came together in 1959
in the Israeli "Theatre Club".
They gave concerts in Israel, also in Herzliya, 1960.

1960 Esther played in Exodus
In 1961 - they already were married -
Esther won at the Song festival in Tel Aviv.
1962 Esther toured with Frank Sinatra in Israel.
1962 Esther won the 2nd price with "Stav"
at the Sopot festival, Poland
1963 Esther made the 2nd place
at the Grand Prix Eurovision Song Contest with
"T'en va pas"
From then on, their carrier began:
Esther was singing and Abi played guitar
and you heard his voice in the background.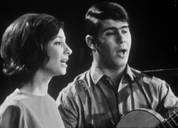 The Ofarims live in Holland, 1963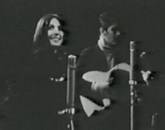 Their first duo performance in Britain, 1963


1964/1965 Esther toured with the Smothers Brothers

article of the Israeli press from 1965

1966 the Ofarims had their first hit in Germany
with "Noch einen Tanz".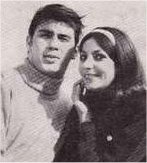 Their greatest success in Germany was
"Morning of my life" in 1967,
which has been written
by the Bee Gees.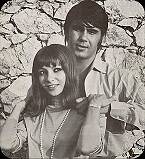 1968 the Ofarims had their
international breakthrough
with "Cinderella Rockefella".

From then on, they had many
live concerts in New York
and London, where they also met the Queen.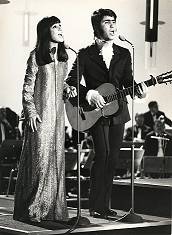 In 1969 they toured around the world

Then their crisis in private
and business began.
They divorced in 1970.
---> see article of the press

--->Esther Ofarim's Solo Carrier
see article of the press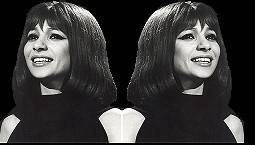 also have a look at wikipedia

for more info about Esther's solo life, see on Ofarim today




German biography