April 5, 2005
Semperoper Dresden
Concert with Esther Ofarim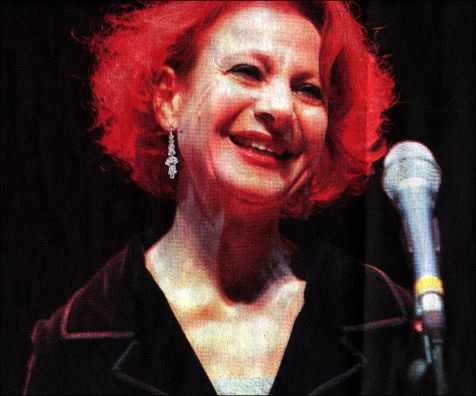 Esther Ofarim performed in concert on April 5, 2005 in the Semperoper, Dresden. (Website)
Beside her usual songs she also sang Adio Querida.

The press:
Dresdner Neueste Nachrichten
Sächsische Zeitung

Review of a fan:

Esther Ofarim at the Semperoper in Dresden, April 5, 2005
by Robert van Leeuwen
It was not difficult which spring concert of Esther to pick. Seeing her in the prestigious Dresden Semperoper would be a double treat. What a sumptuous hall it is. And then to see Esther's name among the likes of Ravel, Wagner and Mozart. Justice at last!
The hall was filled up very well considering Esther's virtually non-existent career in East Germany. Esther came on dressed casually in pants wearing high heels. Maybe the impressive hall drove her to a more theatrical performance than normally. As the evening progressed she re-found her unique simplicity. I loved almost all of the songs. Here are some personal notes.
Surprising to hear 'Bird on a wire' in the beginning of her recital. Usually she sings it towards the end. Esther's phrasing was impeccable and compelling. 'Bird' also gained from the return of Albert Sommer on base-fiddle. He provides just the right underpinning support to Yoni's piano and Michael's violin. Irrespective of who is playing, I much prefer the base to the saxophone, which is really too dominant for this kind of chamber music.
After the ever beautiful 'Layla, Layla', Esther said "Ein Lied für Jerusalem". She delivered it purely and vulnerably. I can't think of anyone else singing 'Jerusalem'. Esther has made it completely her own. The audience responded with a long applause. When do we finally get the studio recording with the London philharmonic on cd? All my vinyl copies are wearing out!
The highlight for me of the second half was clearly 'Adio, Querida', which I had recently heard in Frankfurt for the first time. It is Esther's talent to make a good song sound even better than it is, making the composer probably wonder if he had actually written that! It is precisely this kind of sad lyrical ballad, which makes Esther stand out from any other artist I know.
Giving concerts regularly these last few years for a mainly German audience, I'm still surprised to only hear her sing in German at the very end of her recital. She sounds so good in German. Rather than some German verses divided over two encores, I would love to hear her sing at least one German song in its entirety in her official program. Maybe a song from Ghetto would be too difficult out of context. But what about a song from her collaboration with Eberhard Schöner, or her 'simple makes perfect' version of 'Der Sommerwind'. It would delight me as many others, I'm sure.
Wonderful to hear Esther do all of her three Yoni songs. Their musical talents are clearly complementary and I hope they will continue to inspire each other for a long time to come.
Amsterdam, April 2005

Song list:
Every night when the sun goes in
Waly waly
Bird on a wire
Laila laila
Jerusalem
Besade pa'tuach
Ten li yad
In Germany before the war
She's leaving home

Intermezzo (instrumental & vocal)

Dma'ot shel malachim
Over the rainbow
Ma omrot einayich
Speak low
Adio querida
Moon of Alabama
Me'emek (Shtu adarim)
Morning of my life

Encores:
Gruss
Guten Abend, gut' Nacht

Discuss this concert in the forum!

www.esther-ofarim.de