October 22, 2004
"XII. Else-Lasker-Schüler-Forum"
Concert in Prague, Czech Republic
with Esther Ofarim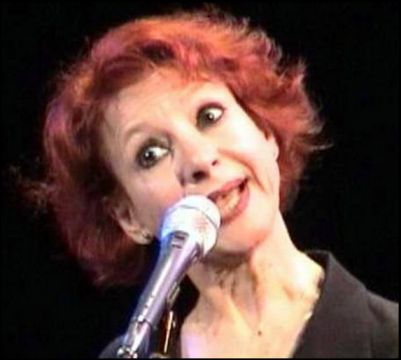 foto © by els.gesellschaft.wtal.de

Esther Ofarim performed in concert on October 22th
in the library of the city of Prague (in the new city hall) at 20.00 h.
Esther Ofarim, live in Prague 2004 - fotos © by konfes.cz
"Ve'ulai - und vielleicht - a snad"


Esther Ofarimová in Prague
Concert review by Roel van Nieuwenhoven

From October 16-24, 2004 the Else Lasker-Schüler Gesellschaft organized a
forum in the city of Prague, Czech Republic. Main theme of the forum was
Exile and Persecution of Minorities: forbidden Art in past and present.
It was not accidental that Prague was chosen out of the new
Eastern-European cities that joined the EU this spring.
Prague with its glamourous past is a city where minorities always have
flourished in spite of the atrocities that took place in the last century.
As Hajo Jahn, chairman of the EL-S Gesellschaft, said when he introduced
Esther to the audience: Prague is a city with three cultures and has a
Czech, a Jewish and a German soul.



In fact the two concerts organized by the EL-S Gesellschaft embraced the
main theme of the forum and brought two important artists, the other being
Udo Lindenberg, for the first time to Prague.
On Friday October 22, Israeli singer Esther Ofarim who lives in Hamburg,
gave an outstanding performance in the big hall of the National Libtary.
Esther sang a variety of her well-known Israeli ballads, songs that have
never been sung before in this city. The other songs, most of them in
English were composed by Randy Newman, John Lennon and Kurt Weill. The
last one managed to escape from the Nazi regime and fled to the USA in 1933.
At the end of the concert there were standing ovations and on request
Esther sang once more Weill's September Song.
One of the Israeli titels was Ve-ulay meaning Perhaps in English. With a
little luck Esther Ofarim will appear on other Eastern-European stages,
too, and delight us again with her wonderful art of singing...... Ve-ulay?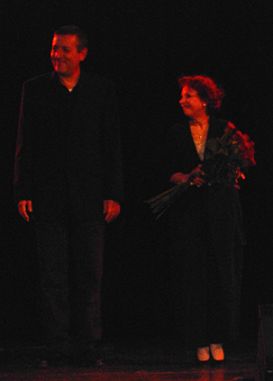 List of Songs:

Every night
Shir hanoded
Shirat hanoded (ziununai haderech)
Pavane
Laila, laila
Cancion para dormir a un negrito
Ma omrot einayich
September song
In Germany before the war
A short instrumental intermission of Yoni Rechter and Michael Paweletz,
followed by Yoni singing a song from Nathan Zach, who is famous in Israel
for his Hebrew translations of the poetry of Else Lasker-Schüler.
Shir eres, Do do l'enfant do
Besade patuach
Ten li yad
She is leaving home
Ve-ulay
Me emek ve givea
Bird on a wire
Moon of Alabama
Shir aviv, Gruss
September Song, reprise



Esther Ofarim: vocals
Yoni Rechter: piano and vocals
Michail Paweletz: violin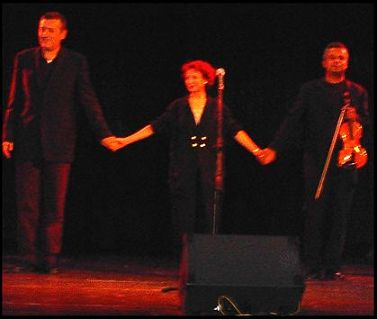 Many thanks to Roel van Nieuwenhoven for his review and Christian Woile for the fotos!